Money grows on copy trees.
Good copy pays for itself, in the form of pinging sales notifications. Lots of 'em.
Bad copy will cost you, many times over, in the form of lost time, leads and revenue.
Give your copy the attention and investment it deserves.
It's time to make your competitors green with envy, not with cash.
Let's get to the root of your copy problems.
I'll bust out my heavy-duty pruners and reshape the way your brand communicates with your people.
With some skinned knees and elbow grease, we'll turn your wilted flower bed into a flourishing greenhouse.
I've helped 175 B2B and B2C brands drive over $100M in revenue.
From luxury real estate to fast fashion, from technical SaaS to coaching programs…I can sell anything.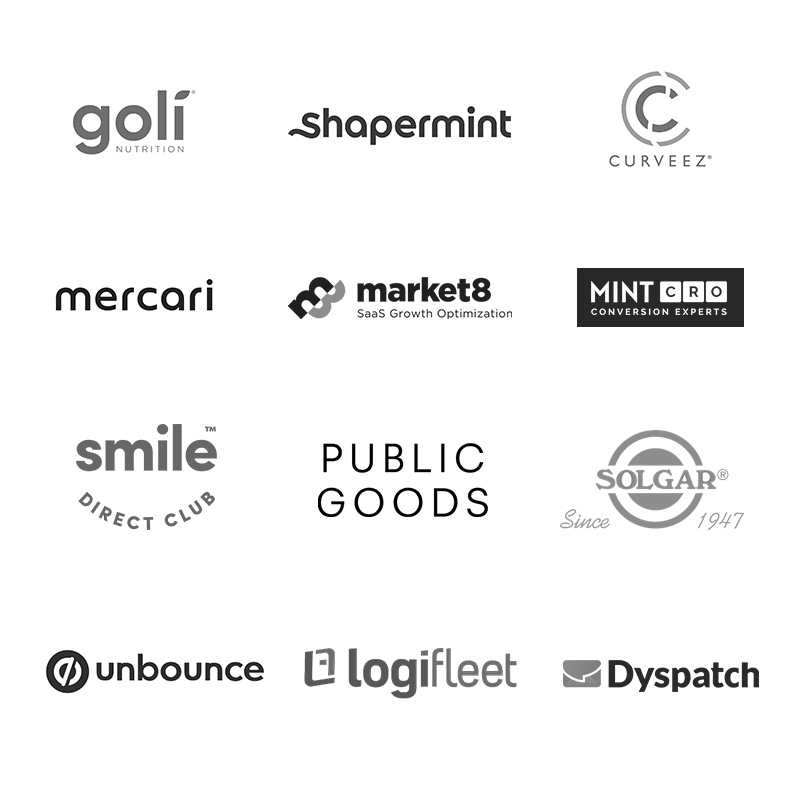 Sick of inexperienced or unreliable freelancers who waste your time and don't deliver? Work with a pro who always gives you 110%, follows client briefs and respects deadlines. Collab with a lightning-fast copy chief who thrives in fast-paced, agile environments.
Tired of stale, cookie-cutter copy? Get powerful conversion copy that matches your brand voice and compels readers to whip out their credit cards. Work with a research-driven, data-obsessed pro who's helped clients rake in over $100M by using proven direct response techniques.
Frustrated Small Biz Owner?
Struggling with your sales copy but not sure how to improve it? Get expert coaching and marketing consultations from a copy veteran who's taught dozens of entrepreneurs how to nail their messaging and sell more products and services. Get the confidence and skills you need to scale your small business to 7 figures and beyond.
Need punchy copy FAST?
I understand the hustle. The grind. The always-growing-never-shrinking to-do-list.
Feeling overwhelmed and procrastinating…again? Totally understandable. Set your time free and get done-for-you copy FAST.
Sales Emails
Turn your lukewarm subscribers into raving evangelists and repeat buyers desperate to open your next email. My tight, engaging copy skyrockets open + reply rates and CTRs.
Sales/Landing Pages
Convert cold audiences into cozy leads. My sticky web copy keeps eyeballs glued to your offer and compels prospects to open up their wallets. Cha-ching!
Copy Coaching
Learn how to go from part-time freelancer/9-5-er to successful 6-figure+ copywriter. Get personalized 1:1 coaching from a biz-savvy copy chief who'll teach you the hard (and soft) skills you need to pay the bills.
Video Scripts
Get thumb-stopping, ROAS-exploding video scripts that leverage proven direct response techniques. Profitable customer acquisition doesn't need to be a pipe dream.
Get clear, compelling website copy that's on-brand and builds trust. My painstaking research yields messaging, copy, and value props that resonate with your target audience's deepest fears and desires.
Copy Consultation
Got a winner, but want to make it even better with conversion rate optimization? Let me audit your assets and suggest some tweaks that'll increase conversion rates and generate a better ROI for your next campaign.
Not Your Average Copywriter
What pros say about my work…
Jackie Quiring is amazing; THE best copywriter and creative director I had the pleasure of working with. Every meeting was an opportunity for growth and new learnings; but not only about copy or advertising, which she is the best at, but also on personal growth and development. I feel blessed I had the opportunity to work with her and hopefully, I can do so again in the future.
Jackie is an excellent team player, very passionate about her work, always proactive, and has a great understanding of what needs to be done. She is very open to feedback and shows commitment every step of the way. It's a real pleasure to work with her.
Jackie is a professional and friendly individual – it has been a pleasure to work with her over the last couple of years. Always willing to go above and beyond to help with any questions or assistance that may go beyond scope. I can count on Jackie to keep a high level of organization within my ongoing ad campaigns.
This girl is awesome. I got to learn so much from her. She is a gifted & extraordinary copywriter with millions of ideas. She listens, she helps, and she is always willing to share her thoughts and help any creative person grow. She understands the customer's mind, what they are looking for and how to sell them something they never even knew they needed… While working together, we brought to life many ideas. She always managed to make any idea work, with the resources on hand, giving her very best at all points of a project. She concerns herself with the execution, with the process and results, all along the way. She was all the time going above and beyond for the objectives and the team… someone awe-inspiring for sure.
She has amazing ideas for completing different projects. Her valuable insight, communication skills, confidence level, ability to deal with issues would be a valuable asset. Her knowledge of marketing and expertise in this field was a huge advantage to our company. Without a doubt, I confidently recommend Jackie Quiring.
Awesome session with Jackie, she is very friendly and detail oriented. She helped us with valuable feedback on how to improve the messaging for our project and gave us a clear idea on what next steps to follow. Thank you!
[Jackie's emails] increased clickthrough rates by 1100-1600%...for our April 2022 campaign…[her emails] drove 20% of ticket sales, equating to $90,000 USD in revenue…She increased our About page from 8% to 18% conversion rate, plus created 100s of pieces of written content for testing. Thank you Jackie!
Jackie came highly recommended to help with some landing page strategies and approaches. I was not disappointed! In only 30 minutes, and looking at the landing page in question, Jackie shared a ton of advice, ideas, and guidance. She also asked some really great questions that got thinking about what I was out to achieve. I would definitely recommend a session with Jackie!
Not only did she teach me so much about copywriting, but she taught me how to advocate for myself in the workplace. Any team Jackie plays on is a winning team. And a chance to work with her is invaluable.
Jackie has been an absolute pleasure to work with, bringing forth professionalism and great results within a timely fashion. I am looking forward to continuing my collaboration with Jackie.
I am so grateful to have the opportunity to work with a great person like Jackie Quiring. She empowers and encourages like no other. She acknowledges and celebrates small wins and improvements—which is a big thing for a new copywriter like me. It was an honor to be mentored by Jackie because she was very generous in sharing her great knowledge about copywriting and managing work priorities.
I've seen her not only excel at the core elements of her job — like strategic planning and copywriting — but also learn other tasks that extend well beyond the scope of her role, like art design, creative thinking skills, and digital analytics. Jackie's mastery for both her core role, and the projects that extend beyond it, have been critical to the company's growth.
I have had the pleasure of working with Jackie, collaborating on several client's marketing and advertising campaigns. Jackie's ability to handle multiple campaigns simultaneously is fantastic, while building solid client relationships. Her attention to details along with her ability to listen shows her dedication to the client's objectives leading to significant results.
Jackie helped ground me to write for what the customer wants, think of benefits of the benefits, and stay focused on not communicating too much.