Most days, it's impossible to explain what I do to friends and family. I mention copywriting, and people think I'm some sort of lawyer. I mention conversions and all I get are raised eyebrows. I usually just tell them I write stuff that sells products and services online.
But that definition doesn't even come close to capturing what copywriting is all about. So today I'm going to answer the question, "What does a conversion copywriter do?" and show you how to hire a great conversion copywriter.
What is copywriting, and why is it so important?
Copywriting is the art and science of writing words for the purpose of persuasion.
Look around and you'll find copywriting everywhere, from email subject lines and Facebook ads to billboards and newspaper advertorials.
Copywriters use their highly-specialized skills to influence how people think and feel about certain products or services.
As John E. Kennedy once said, copywriting is "salesmanship-in-print". The goal of great copy is to get more customers to buy the advertised products or services.
Copywriting is essential in modern businesses because we live in an age where attention spans are short, social media has become king and content overload is the norm. If people don't understand your offer, they'll be gone faster than you can say "Buy now."
Good copywriting works like magic. It has the power to hook in prospects and convince them to take action today instead of tomorrow. As online shopping gains popularity, copywriting acts as an extension of your sales team.
What is conversion copywriting?
There are many different types of copywriting, including SEO copywriting, UX copywriting, brand copywriting and of course conversion copywriting. Today we'll focus on conversion copywriting.
Conversion copywriting is data-driven, research-based digital copywriting that compels readers to complete a certain action (typically online). This action could be: buying your product, signing up for an email list, or downloading a lead magnet.
Conversion copywriting is a relatively new type of copywriting. Joanna Wiebe, founder of Copyhackers was the first to coin the term "conversion copywriter". Conversion copywriting is closely associated with direct response copywriting. Both have the aim of directly driving action and sales.
Here are a few examples of conversion copywriting: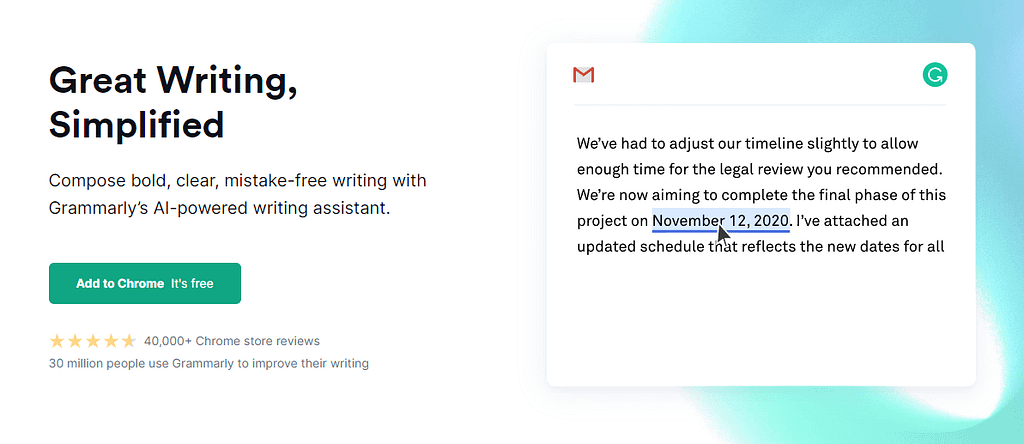 What to look for when hiring a conversion copywriter
In 2020, most brands worldwide ramped up their digital presence. Along with that came an influx of demand for great conversion copywriters. Why? Because conversion copywriters know how to sell online. They are familiar with digital marketing trends and they understand how to build a variety of digital assets such as landing pages, websites, sales emails and video scripts.
It can be tough wading through thousands of copywriter candidates to find the right one for your next project. After all, anyone can call themselves a copywriter.
In 2020, I was in charge of building a copywriting team for Shapermint, one of the fastest growing DTC ecommerce brands in the world. It was a 100% remote position with amazing compensation and ludicrous benefits. The problem? We got over 1000+ applicants in just a few weeks. I didn't have time to sift through all those resumes. At most, I'd give each cover letter a 30-second scan. Over 75% of the applicants had no copywriting experience at all.
When I did reach out to qualified candidates, I faced more problems. Copywriters with little experience were asking for $80k/year. Candidates ghosted me. Didn't show up to interviews. And when they did show up, many could barely answer the interview questions!
In the end, I did manage to hire several great candidates and successfully managed a team of 7 copywriters. It was one of the hardest things I ever had to do in my career.
If you're hiring a conversion copywriter, here are a few things to keep in mind.
1. Do they know digital marketing?
Great conversion copywriters are also world-class marketers. They may have a marketing/sales background or worked at an advertising agency. A great conversion copywriter will know how to build a sales funnel from start-to-finish. They'll understand customer journey maps, content marketing, email marketing, the basics of conversion rate optimization and more.
2. Do they have work samples or an online presence?
A great conversion writer should be able to show samples of their past work. Whether it's their own blog, a website, social media channels, or a client portfolio, copywriters should have some sort of online presence that showcases what they can do. They should be able to summarize past achievements and share case studies from previous clients.
3. Do they love to conduct research?
The best conversion copywriters are obsessed with research. A conversion copywriter will always conduct in-depth research on your industry, competitors and target audience. They need to establish an intimate understanding of your customers and products or services before writing the copy! If you interview a copywriter about their work process and they don't mention conducting research…watch out! Another warning sign might be if the writer says they usually fly by the seat of their pants. Unlike creative writing, conversion writing is carefully constructed, not whimsically created when inspiration strikes.
4. Do they love collecting, reviewing and analyzing data?
Good conversion copywriters love to review and analyze data. From heatmaps and customer surveys to Facebook campaign results and beyond, your copywriter should be comfortable with combing through reams of data to inform their work. And if you don't have any or enough data, good conversion copywriters can gather the information they need through independent research! Of course this means your copywriter should be familiar with some basic research methods and project management tools, too.
5. Do they understand sales psychology?
Great conversion copywriters are masters of sales and consumer psychology. They understand how to write copy that makes your customers want to buy. They know that certain phrases, power words, designs, images and colors have the power to increase conversions. They know how to trigger emotions such as FOMO, curiosity or fear. Conversion copywriters love studying the way people think and behave. Of course, they tend to use this knowledge for good – convincing people to buy things that will make them happy and improve their lives or businesses.
6. Do you enjoy reading their work?
Needless to say, a great conversion copywriter has outstanding verbal and written communication skills. Their work should be clear, concise and compelling. If you're looking for a copywriter who can help with your next project, it's worth speaking to different candidates just to get a feel for their communication style and whether or not you'd enjoy working together. Note their responsiveness, level of experience and whether or not they have mistakes in their correspondences. Browse through their websites or review their portfolio to get a better understanding of their writing style.
7. Do they have the necessary soft skills, too?
A qualified copywriter will be detail-oriented, highly organized, exceptional at project and time management, and work well in a fast-paced environment. They are always professional, respect deadlines and aren't afraid of constructive criticism. Look for a copywriter who can follow briefs and have no problem collaborating with different teams. After all, copywriters usually need to work with designers, marketing managers, project managers and many other stakeholders. While many great writers are "lone wolves", it's best to hire a copywriter who can work both independently and within a team.
8. Are they passionate about copywriting?
Avoid hiring a copywriter who only seems to care about their compensation. Look for growth-minded individuals who genuinely want to improve their craft and help you achieve your business goals. You'll be able to tell if a copywriter is excited about their work by the way they talk about past projects, their favorite copywriting books or their career goals.
Why hire a conversion copywriter?
You should hire a conversion copywriter if you want to improve the results of your digital marketing campaigns or optimize your sales funnel.
Conversion copywriters can help you:
Increase conversion rates on your landing pages, websites, social ads and emails
Improve your organic search engine rankings with better SEO copywriting
Write better product descriptions for your Shopify, Amazon or Etsy store
Develop direct response video scripts that sell more products and services
Create a content marketing strategy that builds trust and authority in your industry
Expand the reach of your social media posts with more compelling copy
Optimize user experience (think better pop-ups, upsell pages, CTAs)
And much, MUCH more! A good conversion writer can help you improve so many different parts of your business. If any or all of this sounds appealing to you…you should definitely hire a conversion copywriter today!